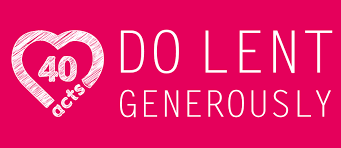 When you sign up (free – no charge) you will receive a daily email throughout Lent (not including Sundays!), with a generosity challenge (an 'act') and short Bible-based blog sent straight to your inbox. Each act is designed to sharpen your awareness and give you practical ways to stretch your faith as well as your generosity, with

three challenge levels.
40acts is a daily generosity challenge that runs throughout the period of Lent, created by the charity Stewardship. During 2018, 100,000+ individuals and thousands of groups took the 40acts challenge, creating a wave of more than 4million generous acts in 180 countries around the world.
SIGN UP FOR THE 2019 CHALLENGE TODAY
HAVING TROUBLE GETTING THE DAILY CHALLENGE IN YOUR EMAIL? EACH DAYS CHALLENGE WILL BE POSTED BELOW
Videos that are shown in church each week will appear below
Commit to the 40act challenge by signing up today. Your name and email are all that is needed.
Attend the Fat Tuesday Pancake Dinner kickoff on March 5th
Wake up to a fresh challenge each day.